Removal of Fibroids (Myomectomy)
One in three women can have fibroids at the same point of their lifetime. It mostly occurs in women from the age of thirty to fifty. In the African-Caribbean country, women develop this more frequently. The women who are suffering from the problem of overweight, are prone to it because obesity increases the level of estrogen in the body. The women with children have a lower risk than others.
What are fibroids?
In the uterus of a woman, there are some abnormal growths which are called fibroids. Sometimes, the sizes of tumors become large and it is the reason behind the heavy flow of periods and abdominal pain. They may not cause any symptoms in other cases. These are major, noncancerous, or benign. They made turn cancerous rarely in less than 0.26%. Other names of the fibroids are myomas, leiomyomas, fibromas, and uterine myomas. According to the Office of Woman's Health, 80% of women over fifty have them. Some people never come to know about it as they do not have any symptoms.
What are the types of fibroids?
In women, different fibroids different develop. Its classification depends on its location. These include the followings:
The most common type of fibroid is intramural fibroids. You will get to see these in the muscular wall of the uterus. It can stretch the womb by growing larger.
On the outside of the uterus, the subserosal fibroids occur. After its sufficient growth, it makes the womb bigger from one side.
Subserosal tumors can sometimes have a thin base that can support tumors. These are pedunculated fibroids.
Sometimes fibroids enter the uterine cavity, then known as submucosal fibroids. These are not that common.
Causes and signs of fibroids
Till now, the reason for the development of fibroids is not clear, but it can cause because of some influences. This includes-
The ovaries produce hormones like progesterone and estrogen. During every menstrual cycle, these hormones handle the uterine lining development and also stimulate the fibroids to grow.
The problem with fibroids is that they can spread through genes. If one of your family members has a history of fibroids, you are most likely to have it.
Other than these, during pregnancy the chance of developing fibroids increases because the body produces progesterone and estrogen in more amounts at this time.
Symptoms of fibroids
Symptoms depend on the size, number, and location of fibroids.
For example, some fibroids cause problems in conceiving, and other cause heavy menstrual bleeding. If one is going through menopause and the size of the tumor is small. It will not show any symptoms. It happens due to a level drop of progesterone and estrogen after menopause which causes the stimulation of growth of the fibroid.
The symptoms are:
Heavy bleeding during the period.
Pain in the pelvic area.
Increased cramps during menstruation and urination get increased.
Pain during intercourse.
Pressure in the lower abdomen and its enlargement occurs.
Diagnosis and treatment for fibroid
If you face the mentioned symptoms, you need to consult a gynecologist. There are some processes to confirm if you have this problem or not. It includes an ultrasound preferably, transvaginal and 3 D, and pelvic MRI. The treatment of fibroids is based on the age of the patient and the size of the fibroids.
Home remedies including yoga, acupuncture, massage, application of heat on cramps are helpful in this matter. Try to avoid high-calorie food and meats and consume green vegetables, cold-water fish, and green tea and according to the diet, chart suggested by your dietician.
There is a limitation of the treatment of fibroids by medication. The gonadotropin-releasing hormone can decrease the level of secretion of progesterone and estrogen and help in reducing the size temporarily
Otherwise, doctors also can remove large growth by surgery. Surgery is the cornerstone of treatment. The doctor makes an incision in the abdomen and gets access to the uterus. It helps to remove the fibroids. Sometimes, they also make small cuts and insert the camera with the surgical tool known as laparoscopy or key-hole surgery.
There is also a noninvasive surgical process. By this procedure, the doctor does an ultrasound and gets to see the condition of the uterus. They destroy the fibroids by the high-frequency ultrasonic energy. There is also another nonsurgical option, which is uterine artery embolization. Non-invasive options have limitations especially not appropriate if planning a future pregnancy.
Pregnancy with fibroid
During early pregnancy, fibroids in the uterus are not uncommon. Most of the women do not feel any kind of difference due to the presence of fibroids that. Most of the time, these are harmless. According to the review, women may face complications from fibroids during pregnancy. During this time, the would-be mothers feel pain in the abdomen due to fibroids. To avoid the risk and have a healthy pregnancy, you should consult with gynecologists. If the fibroids are large she can face miscarriage or preterm delivery due to the complication of fibroids.
Conclusion
If the fibroids don't show symptoms, there is no need to treat them. After menopause, they can disappear without treatment. Sometimes, the doctors recommend medication to help the problem. But the majority of symptomatic fibroids require a surgical procedure.
Patient Testimonials
It's always the word of mouth that's the best advice

Abhishek Parashar
Hi, I and my wife Garima got married in 2013, and it's been 7.5 years since we had no children. We went to three-four doctors before visiting Gunjan IVF world. Then we went to Gunjan IVF center, where Doctor Gunjan ma'am guided us so friendly and she advised us to go for IVF. With their positive hands, we cracked in the first go and now we are blessed with twins. Especially, the team is too very cooperative they give you an environment which makes you feel very positive and comforting

Rohit Krishna Gupta
We started the treatment with Dr. Gunjan in the year 2018 when my wife had an ectopic pregnancy. The key thing in this relationship was that we trusted the doctor blindly and the doctor also put their best efforts to help us in getting the good news. Hope everything will go positively. Thank you, doctor. Last but not least, Mr. Gaurav, the COO of Dr. Gunjan Hospital, is the biggest reason to have this long association with the doctor and the treatment. Always got positive thoughts and suggestions from him and they helped a lot. Thank you, Gaurav Ji.

Ankush Tayal
Had a great experience with Dr. Gunjan. We visited the clinic as we had some queries regarding the conception process. Dr. Gunjan listened to the queries and answered all those with patience. And we had good news at the next consultation itself. Dr. Gunjan is very experienced, is soft-spoken, and very diligent with the process. Highly recommended!

Meenal Pandey
From the very depth of my heart, I would really love to thank my most excellent Dr. Gujan and her team whose guidance actually helped me a lot more than that I would like to give my gratitude to the most outstanding counselor (Ms. Nivedita) for all her counseling. It was actually possible with her help that I could take a perfect decision for my own self. Thank you for valuable counseling which actually provided inner strength to go for Gujan Mam. It's not been long that I have been attached to the clinic but it makes me feel like an extended family of mine.
Know the Expert before you visit our clinic
A team of Specialists working together as a team with a single Goal: Patient Satisfaction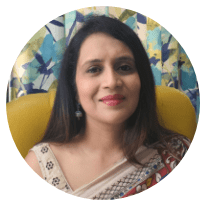 Dr. Gunjan Gupta Govil
MRCOG(UK), MD(Gynae) – Founder & Director
She is a Gynaecologist with specialization in IVF, Infertility & Laparoscopy specialist doctor and has close to 2 decades of experience in treating Infertility, performing Gynae Laparoscopy (Keyhole Surgeries) & Handing high risk Pregnancies. She is a noted speaker in National and International level conferences and has also chaired various sessions on Infertility
4.5

(267 Votes)

4.5

(261 Votes)

3.5

(199 Votes)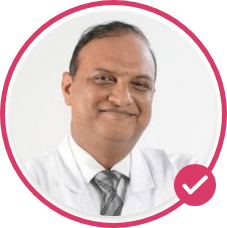 Dr. Pradyot Kumar
CEO
---
Dr. Pradyot Kumar is the CEO of Gunjan IVF World. He is a Neurosurgeon with specialization
(20+ years of experience)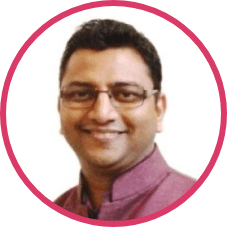 Mr. Gaurav Singhai
Co-Founder & COO
---
He has 15 years of Managerial Experience from various National & International Organizations like TCS, Fiserv & Sopra Steria. He has lived and worked with various MNCs in the US, UK, France & The Netherlands and gained immense experience and skills which he now contributes to Gunjan's IVF World assiduously.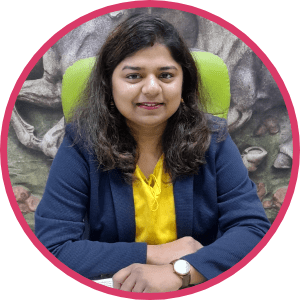 Dr Ankita Nigam, MS
Associate Consultant
---
MS Obs & Gynae (Gold Medallist). Dr Ankita Nigam has 3+ years of experience in IVF, Infertility and Gynaecology. She conducts and assists in OPD at our Indirapuram and Meerut centres. She actively assists IVF consultants in all procedures. She takes care of the management of various IVF, Infertility, Pregnancy care patients. She has done a special training in "Ultrasound Whole abdomen and Obstetrics & Gynaecology" from Thomas Jefferson University Philadelphia US.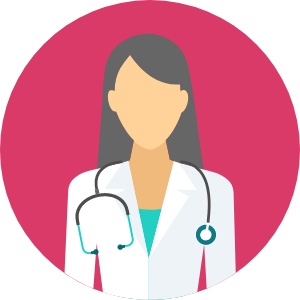 Dr. Rajeshwari Suthar
RMO
---
Dr Rajeshwari Suthar has 5+ years of experience in IVF & Infertility treatments. She actively assists our IVF consultants in OPDs. She is an excellent counsellor and patients are very comfortable with her. She has done BHMS from Hemchandracharya University, Gujarat in 2011.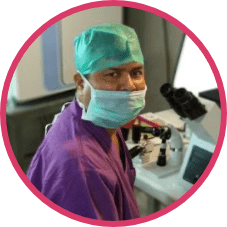 Paritosh Sarkar
Embryologist
---
He is a highly experienced and successful Embryologist with more than 10 years of experience in IVF. He has done M.Sc. in Biotechnology from MIMS, Jaipur. He has done more than 4000 IVFs and 3000+ ICSI cases till date.)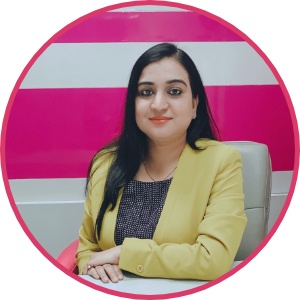 Ms. Nivedita Rai
Head Counsellor
---
MBA in HR from IMT Ghaziabad B.Ed, M.SC in psychology (pursuing). Nivedita Rai is our Head counsellor. She has been with Gunjan IVF World for the last 4.5 years. Her mission as a Head Counsellor is to bring happiness to all those who are unable to conceive. She makes them understand the various infertility treatments that we offer and help them throughout their journey to parenthood. She is a project Head of children welfare related projects of NGO Develop India Foundation and She is also a Reiki practitioner.