What is an ovarian cyst?
Ovarian cysts are like fluid-filled sacs that form in the ovary. The ones who commonly suffer from ovarian cysts are women of all age groups, from puberty to the reproductive age group to postmenopausal females. The majority of ovarian cysts are not cancerous in contrast to the general scare and also do not require surgical removal. Cysts can vary in size from less than one centimetre (one-half inch) to greater than 10 centimetres (4 inches).
Some women with ovarian cysts may have pain or pelvic pressure, while others have no symptoms. The condition of the Irregular period cycle is not usually related to an ovarian cyst. However, if the cysts grow big, they might interfere with your health. Not only it causes pain, but it also leads to cancer, even though it is rare. With age, the chances of developing it into ovarian cancer increases. An unhealthy lifestyle and hormonal imbalance cause ovarian cancer.
Causes of Ovarian Cyst
Follicular cyst – Functional ovarian cysts are cysts that develop or form when a follicle or a sac grows but does not rupture in order to release the egg. Every month, with your menstrual cycle, you might unknowingly develop ovarian cysts. It goes away on its own with time.
Dermoid cysts – Dermoid cysts are more like tumours that develop in the ovaries. These tumours primarily consist of various tissues like hair, teeth, thyroid, bone, sebum etc. Dermoid cysts typically originate from the totipotential germ cells, which are present in the egg sacs or follicles. Totipotential, the cell can often cause mature tissue formations. These mostly look similar to the structures like hair, bone, sebaceous materials, etc. Dermoid cysts can occur during any age; however, women of childbearing age are more susceptible. They are usually not more than 2.5 inches in diameter and can be removed laparoscopically.
Polycystic ovary syndrome (PCOS) – Women with PCOS may have many small cysts in their ovaries. There is no need to remove or treat this cyst with surgery or medication, but PCOS patient may need treatment for other PCOS symptoms or associated problems, such as irregular menstrual periods.
Endometriosis – Women with endometriosis can develop a blood-filled ovarian cyst called an endometrioma, or "chocolate cyst."
Corpus luteal Cyst: – A Corpus luteal cyst normally develops in early pregnancy, to support the pregnancy until the placenta develops. It develops at the site of ovulation.
Severe pelvic infections – Severe pelvic infections like tuberculosis may spread to involve the ovaries and fallopian tubes. As a result, these pus-filled cysts develop close to the ovaries and fallopian tubes and are termed adnexal masses.
Cancer – Cancer is an unknown rare cause of ovarian cysts in premenopausal women. Around less than 1 percent of new or abnormal growths in the ovary is said to be ovarian cancer. Ovarian cysts if found in postmenopausal females are more likely to be cancerous.
Signs and symptoms of ovarian cyst
Usually, the symptoms of ovarian cyst are asymptomatic but in some cases, one can experience the following symptoms:
Experiencing dull backache or lower abdominal fullness and pain that may be dull or sharp, constant or fluctuating. The ovarian cyst doesn't cause any Crampy lower abdominal pain.
One may also feel sharp-sudden pain when the cyst ruptures in the ovary.
Women that have torsion or twisting of an ovary may experience pain along with nausea and vomiting. They might also feel weak, fainting, and dizzy.
Ovarian cysts don't cause abnormal periods or vaginal bleeding.
Diagnosis and treatment for ovarian cyst
Pelvic examination is one of the simplest methods of diagnosis for ovarian cysts. Healthcare providers rule out pregnancy as the cause of ovarian cysts. Later on, he might use specific tests for diagnosing. Here are some of the diagnosis methods for ovarian cyst.
If you have a corpus luteum cyst, the positive pregnancy test will detect it.
Pelvic ultrasound, especially transvaginal one can easily and accurately visualize ovarian cysts and it helps to analyze the presence of a cyst, its nature and location.
There is another way, and that is the CA 125 blood test. A woman having ovarian cancer has an elevated blood level of cancer antigen 125. Doctors generally suggest this test when your cyst's nature is solid, and you have a high risk of ovarian cancer. But Ca 125 can also be raised in other conditions as endometriosis, fibroids and pelvic inflammatory disease.
Laparoscopy: Laparoscopy can be used to diagnose and treat ovarian cysts. A laparoscope is a slim-lighted instrument. Doctors insert it into the abdomen to see the ovary's condition, and with this, he can also remove the cyst. This process is called laparoscopy. Although cysts disappear within a few months, proper treatment is necessary to avoid further complications. The type, size and symptoms of the cyst decide the treatment.
If the person has a cyst in her ovary but has no symptoms and its size is small, the doctors recommend that they wait and re-examine if the cyst has gone.
You can take hormonal contraceptives if your doctor recommends you so to keep the cyst from recurring.
Some cysts increase in size continuously and cause pain. Generally, doctors suggest removing this. Majorly, doctors can remove the ovarian cysts, but in other cases, they need to remove the ovary. Remember that even If one of the ovaries is removed, the other removing ovary will still be able to release certain hormones and eggs as usual. Your fertility wouldn't be affected by removing one ovary, although you may find it slightly difficult to get pregnant. Doctors refer patients to gynaecologists if their ovarian cyst is cancerous.
Pregnancy with an ovarian cyst
During early pregnancy, ovarian cysts are prevalent. Irregular menstruation is common with ovarian cysts. Most of the time, these cysts are harmless, but it can cause problems if it grows during pregnancy. To avoid the risk, you should consult with gynaecologists.
Ovarian cyst and ovarian cancer
Ovarian cancer arises from ovarian cells. The place of the tumours is the epithelium or lining of the ovary. Unlike these, there is also ovarian tumours with low malignant potential. It does not spread like typical cancer. Ovarian cancers may require a combination of surgery and chemotherapy. In some cases, doctors suggest radiation for curing it. The difference between the symptoms of ovarian cysts and cancer is impossible, but the diagnosis processes are the same.
Ovarian cysts are not generally non-cancerous although there's no way to prevent ovarian cysts, regular pelvic exams help ensure that changes in your ovaries are diagnosed as early as possible. Be prepared for changes in your monthly period cycle, including unusual period symptoms, especially ones that persist for more than a few cycles. Talk to your doctor about these changes.
Patient Testimonials
It's always the word of mouth that's the best advice

Abhishek Parashar
Hi, I and my wife Garima got married in 2013, and it's been 7.5 years since we had no children. We went to three-four doctors before visiting Gunjan IVF world. Then we went to Gunjan IVF center, where Doctor Gunjan ma'am guided us so friendly and she advised us to go for IVF. With their positive hands, we cracked in the first go and now we are blessed with twins. Especially, the team is too very cooperative they give you an environment which makes you feel very positive and comforting

Rohit Krishna Gupta
We started the treatment with Dr. Gunjan in the year 2018 when my wife had an ectopic pregnancy. The key thing in this relationship was that we trusted the doctor blindly and the doctor also put their best efforts to help us in getting the good news. Hope everything will go positively. Thank you, doctor. Last but not least, Mr. Gaurav, the COO of Dr. Gunjan Hospital, is the biggest reason to have this long association with the doctor and the treatment. Always got positive thoughts and suggestions from him and they helped a lot. Thank you, Gaurav Ji.

Ankush Tayal
Had a great experience with Dr. Gunjan. We visited the clinic as we had some queries regarding the conception process. Dr. Gunjan listened to the queries and answered all those with patience. And we had good news at the next consultation itself. Dr. Gunjan is very experienced, is soft-spoken, and very diligent with the process. Highly recommended!

Meenal Pandey
From the very depth of my heart, I would really love to thank my most excellent Dr. Gujan and her team whose guidance actually helped me a lot more than that I would like to give my gratitude to the most outstanding counselor (Ms. Nivedita) for all her counseling. It was actually possible with her help that I could take a perfect decision for my own self. Thank you for valuable counseling which actually provided inner strength to go for Gujan Mam. It's not been long that I have been attached to the clinic but it makes me feel like an extended family of mine.
Know the Expert before you visit our clinic
A team of Specialists working together as a team with a single Goal: Patient Satisfaction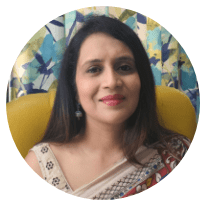 Dr. Gunjan Gupta Govil
MRCOG(UK), MD(Gynae) – Founder & Director
She is a Gynaecologist with specialization in IVF, Infertility & Laparoscopy specialist doctor and has close to 2 decades of experience in treating Infertility, performing Gynae Laparoscopy (Keyhole Surgeries) & Handing high risk Pregnancies. She is a noted speaker in National and International level conferences and has also chaired various sessions on Infertility
4.5

(267 Votes)

4.5

(261 Votes)

3.5

(199 Votes)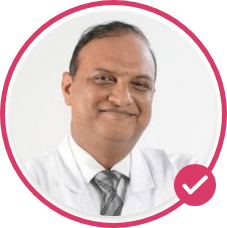 Dr. Pradyot Kumar
CEO
---
Dr. Pradyot Kumar is the CEO of Gunjan IVF World. He is a Neurosurgeon with specialization
(20+ years of experience)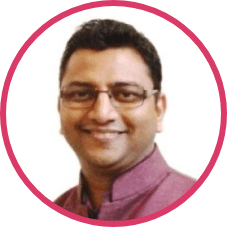 Mr. Gaurav Singhai
Co-Founder & COO
---
He has 15 years of Managerial Experience from various National & International Organizations like TCS, Fiserv & Sopra Steria. He has lived and worked with various MNCs in the US, UK, France & The Netherlands and gained immense experience and skills which he now contributes to Gunjan's IVF World assiduously.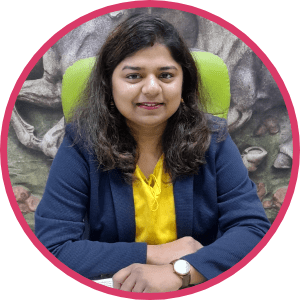 Dr Ankita Nigam, MS
Associate Consultant
---
MS Obs & Gynae (Gold Medallist). Dr Ankita Nigam has 3+ years of experience in IVF, Infertility and Gynaecology. She conducts and assists in OPD at our Indirapuram and Meerut centres. She actively assists IVF consultants in all procedures. She takes care of the management of various IVF, Infertility, Pregnancy care patients. She has done a special training in "Ultrasound Whole abdomen and Obstetrics & Gynaecology" from Thomas Jefferson University Philadelphia US.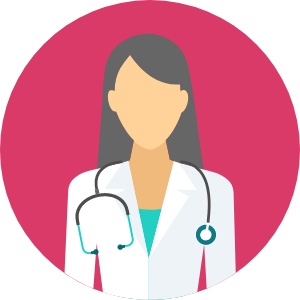 Dr. Rajeshwari Suthar
RMO
---
Dr Rajeshwari Suthar has 5+ years of experience in IVF & Infertility treatments. She actively assists our IVF consultants in OPDs. She is an excellent counsellor and patients are very comfortable with her. She has done BHMS from Hemchandracharya University, Gujarat in 2011.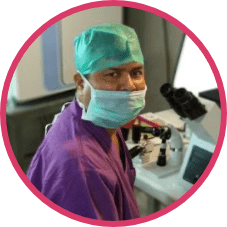 Paritosh Sarkar
Embryologist
---
He is a highly experienced and successful Embryologist with more than 10 years of experience in IVF. He has done M.Sc. in Biotechnology from MIMS, Jaipur. He has done more than 4000 IVFs and 3000+ ICSI cases till date.)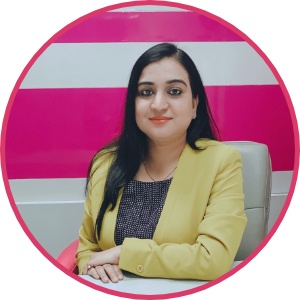 Ms. Nivedita Rai
Head Counsellor
---
MBA in HR from IMT Ghaziabad B.Ed, M.SC in psychology (pursuing). Nivedita Rai is our Head counsellor. She has been with Gunjan IVF World for the last 4.5 years. Her mission as a Head Counsellor is to bring happiness to all those who are unable to conceive. She makes them understand the various infertility treatments that we offer and help them throughout their journey to parenthood. She is a project Head of children welfare related projects of NGO Develop India Foundation and She is also a Reiki practitioner.