Who is a gynecologist?
A gynaecologist is a person who is trained and an expert in the female reproductive system. With a certified medical qualification, he/she can be distinguished as a gynaecologist. Areas of women health include pregnancy, childbirth, inability to conceive(fertility problems) lower abdominal pain, urinary infection, menstrual problem, sexual health, sexually transmitted diseases, gynecologic malignancies. A gynaecologist is an expert in these areas, and you will find all the solutions to your problems from a gynaecologist.
What does a gynaecologist do?
A gynaecologist is an expert in women's reproductive system, and they diagnose any problem related to reproductive health. They conduct and manage surgical procedures and medical issues which affect the urological system and women's reproductive system.
Gynaecological problems and conditions
Common gynaecological problems include genital tract or vaginal infection, ovarian cyst, pelvic pain, vulva and vaginal skin disorder, polycystic ovarian syndrome (PECOS), uterine fibroids, abnormal hair distribution and acne among female. A major gynaecological problem is a menstrual disorder associated with heavy bleeding, irregularity and menstrual pain and premenstrual syndromes. Besides she also helps in the diagnosis and treatment of precancer and cancers of the reproductive system of females.
When to see your gynecologist?
Women suffering from acute gynecological problems are expected to visit a gynecologist. Women most commonly visit for pregnancy planning and pregnancy care, which requires regular visits to a gynecologist. Besides, one needs to visit for infections of private parts ( vagina and vulva) and urinary infections.
Menstrual irregularities, both light and heavy bleeding, with bleeding in between periods or bleeding after intercourse and severe periods of pain or pain during intercourse warrants a gynaecologist's attention.
Couples sometimes need to consult an expert during family planning. One needs to consult before starting oral pills so that she can screen for any risk factors. Procedures such as Copper T, insertion, Mirena insertion, Vaginal rings and Implanon insertion and lastly laparoscopic tubal blockage (sterilization,) which is permanent contraception requires visits to a gynaecologist.
Pelvic floor disorder such as pelvic organ prolapse that is the uterus is coming out of the vagina,, urinary incontinence or leakage, frequent urinary tract infection, and urodynamic testing knowledge also ask for a specialist's help.
Problems related to infertility, hormonal treatments during menopause and post-menopausal bleeding, and diagnosis of gynaecological cancer also demand a gynaecologist's attention.
Standard gynaecological tests and process
Sometimes people with or without symptoms may require standard tests advised by the gynaecologist assessing general wellbeing and screening to rule out any cancer-related changes. Such tests and procedures are:
To detect cancer for the cervix, which is the lower part of the uterus, cervical cell or cytology testing known as Papanicolaou smear or Pap smear is done.
To detect breast cancer, ultrasound both breast or mammography may be done.
Screening for Cervical cancer requires the following tests for its diagnosis:
Papanicolaou Smear ( PAP Smear): Gynaecologists takes fluid from the surface of the cervix and then Cells from the cervix are examined under the microscope to determine whether the cells are normal or abnormal may be cancerous. It is assessed by gynae Whether treatment is essential or not.
Human papillomavirus (HPV) test: Certain strains of the HPV virus can lead to cervical cancer. A sample from the cervix is examined to detect whether the presence of cancer-causing strains of the HPV virus.
Biopsy: A process in which a small tissue sample from the vulva, vagina, lining of the uterus or the cervix is taken and then examined under the microscope. It is recommended in conditions when:
Some area in the genital tract looks abnormal, and the doctor takes a sample from it.
The doctor cannot detect anything abnormal in the vulva during physical examination or cancer of the vulva is suspected; a biopsy of the vulva is initiated.
There is abnormal bleeding from the uterus, and uterus cancer is suspected, and it is essential to check the lining of the uterus for which biopsy from the uterine lining is taken.
What to expect during your checkup
The doctor may use an instrument known as the speculum to examine the vagina and the cervix. A small brush may be used to take the sample from the vagina during the pap test. The doctor may also look into the vagina by inserting two lubricated fingers inside the vagina and the cervix. Questions regarding sexual activities based on medical grounds is expected to be asked.
What services do gynaecologists provide?
Gynaecologists are trained physicians who deal with several women's sexual health-related issues. They perform services like:
Hysterectomy Both open and laparoscopic surgery.
Normal and Assisted vaginal birth ( vacuum and Forceps Delivery).
Cesarean childbirth.
Laparoscopic and Open surgery for treatment of Endometriosis.
Surgery of ovarian cyst and uterine fibroids.
Surgery to repair pelvic organ injuries.
Tests and treatment for sexually transmitted diseases.
Breast cancer screenings.
Diagnosis of urinary tract infection and problems related to urinary issues.
Infertility counselling and treatment.
Medical conditions treated by a gynecologist
Menorrhagia: excessive menstrual bleeding where more than 80ml of blood is lost in one cycle or bleeding phase is more than seven days.
Metrorrhagia: Abnormal or irregular menstrual cycle.
Polycystic ovarian syndrome: Condition of hormonal imbalance where there are Multiple small water-filled cysts in the ovary which may lead to irregular menstruation, acne, excessive facial hair, weight gain and also hampers fertility.
Dysmenorrhoea: Painful menstruation.
Hirsutism: The presence of a male-like pattern of hair growth in females is Hirsutism. For example, the presence of abnormal facial and chest hair growth.
Virilization: Low pitched voice and muscular body like men present in female.
Fibroids: Solid non-cancerous tumour of the uterus.
Ovarian – Cysts or Blood filled Cyst known as Endometriosis are treated by medicines or surgery.
Uterine prolapsed: Downward descent of uterus due to loss of uterine support due to which uterus may come into the vagina or outside the vagina.
Postmenopausal bleeding: Here woman suddenly has vaginal bleeding more than one year after stopping her periods. It should never be ignored as it may be an early sign of uterus cancer.
Pelvic inflammatory disease or infection or inflammation of pelvic reproductive organs.
Gunjan IVF World is very much efficient enough to treat all the gynaecological problems of a woman with the best facilities. The team of experts at Gunjan IVF World is one of the reputed and well-known teams. You can contact us anytime without any hassle for an appointment.
Patient Testimonials
It's always the word of mouth that's the best advice

Abhishek Parashar
Hi, I and my wife Garima got married in 2013, and it's been 7.5 years since we had no children. We went to three-four doctors before visiting Gunjan IVF world. Then we went to Gunjan IVF center, where Doctor Gunjan ma'am guided us so friendly and she advised us to go for IVF. With their positive hands, we cracked in the first go and now we are blessed with twins. Especially, the team is too very cooperative they give you an environment which makes you feel very positive and comforting

Rohit Krishna Gupta
We started the treatment with Dr. Gunjan in the year 2018 when my wife had an ectopic pregnancy. The key thing in this relationship was that we trusted the doctor blindly and the doctor also put their best efforts to help us in getting the good news. Hope everything will go positively. Thank you, doctor. Last but not least, Mr. Gaurav, the COO of Dr. Gunjan Hospital, is the biggest reason to have this long association with the doctor and the treatment. Always got positive thoughts and suggestions from him and they helped a lot. Thank you, Gaurav Ji.

Ankush Tayal
Had a great experience with Dr. Gunjan. We visited the clinic as we had some queries regarding the conception process. Dr. Gunjan listened to the queries and answered all those with patience. And we had good news at the next consultation itself. Dr. Gunjan is very experienced, is soft-spoken, and very diligent with the process. Highly recommended!

Meenal Pandey
From the very depth of my heart, I would really love to thank my most excellent Dr. Gujan and her team whose guidance actually helped me a lot more than that I would like to give my gratitude to the most outstanding counselor (Ms. Nivedita) for all her counseling. It was actually possible with her help that I could take a perfect decision for my own self. Thank you for valuable counseling which actually provided inner strength to go for Gujan Mam. It's not been long that I have been attached to the clinic but it makes me feel like an extended family of mine.
Published On: 29th Aug
"Age is Just A Number" Pregnancy After 40 IVF Success Stories in Hindi
Published On: 29th Aug
"Age is Just A Number" Pregnancy After 40 IVF Success Stories in Hindi
Know the Expert before you visit our clinic
A team of Specialists working together as a team with a single Goal: Patient Satisfaction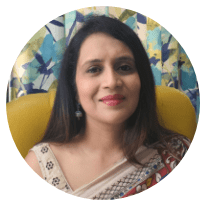 Dr. Gunjan Gupta Govil
MRCOG(UK), MD(Gynae) – Founder & Director
She is a Gynaecologist with specialization in IVF, Infertility & Laparoscopy specialist doctor and has close to 2 decades of experience in treating Infertility, performing Gynae Laparoscopy (Keyhole Surgeries) & Handing high risk Pregnancies. She is a noted speaker in National and International level conferences and has also chaired various sessions on Infertility
4.5

(267 Votes)

4.5

(261 Votes)

3.5

(199 Votes)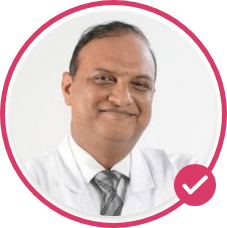 Dr. Pradyot Kumar
CEO
---
Dr. Pradyot Kumar is the CEO of Gunjan IVF World. He is a Neurosurgeon with specialization
(20+ years of experience)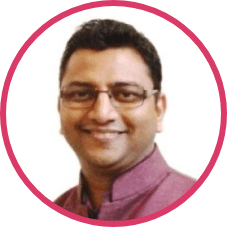 Mr. Gaurav Singhai
Co-Founder & COO
---
He has 15 years of Managerial Experience from various National & International Organizations like TCS, Fiserv & Sopra Steria. He has lived and worked with various MNCs in the US, UK, France & The Netherlands and gained immense experience and skills which he now contributes to Gunjan's IVF World assiduously.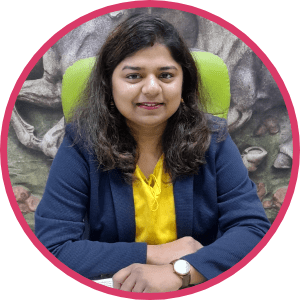 Dr Ankita Nigam, MS
Associate Consultant
---
MS Obs & Gynae (Gold Medallist). Dr Ankita Nigam has 3+ years of experience in IVF, Infertility and Gynaecology. She conducts and assists in OPD at our Indirapuram and Meerut centres. She actively assists IVF consultants in all procedures. She takes care of the management of various IVF, Infertility, Pregnancy care patients. She has done a special training in "Ultrasound Whole abdomen and Obstetrics & Gynaecology" from Thomas Jefferson University Philadelphia US.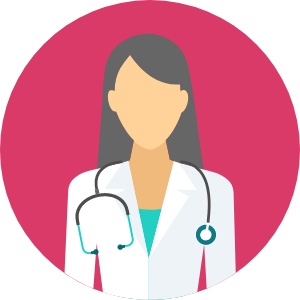 Dr. Rajeshwari Suthar
RMO
---
Dr Rajeshwari Suthar has 5+ years of experience in IVF & Infertility treatments. She actively assists our IVF consultants in OPDs. She is an excellent counsellor and patients are very comfortable with her. She has done BHMS from Hemchandracharya University, Gujarat in 2011.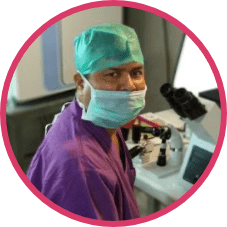 Paritosh Sarkar
Embryologist
---
He is a highly experienced and successful Embryologist with more than 10 years of experience in IVF. He has done M.Sc. in Biotechnology from MIMS, Jaipur. He has done more than 4000 IVFs and 3000+ ICSI cases till date.)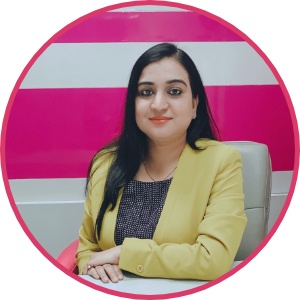 Ms. Nivedita Rai
Head Counsellor
---
MBA in HR from IMT Ghaziabad B.Ed, M.SC in psychology (pursuing). Nivedita Rai is our Head counsellor. She has been with Gunjan IVF World for the last 4.5 years. Her mission as a Head Counsellor is to bring happiness to all those who are unable to conceive. She makes them understand the various infertility treatments that we offer and help them throughout their journey to parenthood. She is a project Head of children welfare related projects of NGO Develop India Foundation and She is also a Reiki practitioner.