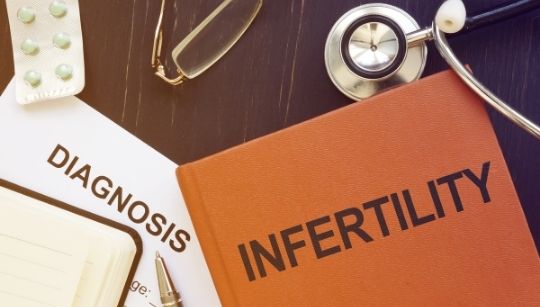 What is Female Infertility?
Female infertility is a condition in which due to some underlying health conditions, a woman isn't able to conceive naturally. In this condition, it is said that a female is infertile when she is not able to get pregnant naturally after trying for a year or more. There could be various reasons behind infertility in women like insulin resistance, obesity, PCOD/PCOS, endometriosis, etc. The exact female infertility problem is diagnosed through workup tests that are done by a fertility specialist.
These tests will include some information about your medical history, some physical examination, other function tests, etc. All these tests will rule out if there is an underlying condition that has caused infertility issues.
Everything You Need to Know About Female Infertility Workup
Work Up of Female Infertility
In the last few years, the importance of fertility workup has risen. A fertility workup is like an infertility evaluation of a female or a male that includes certain tests that tell us about their health.
The need for infertility workup comes in when the couple has been trying to have a child for a long time but isn't getting successful at it. It is said that a couple may have some fertility issues if there is a continuous failure in conceiving after trying for over one year with unprotected intercourse.
If the female is over 35 years, they preferably immediately require this evaluation or maximum after waiting for 6 months This will tell us about the exact infertility problem that is affecting the couple and causing problems.
Steps of Infertility workup for a female:
The essential elements of an initial infertility workup include three major steps like medical history, physical examination, and other investigations.
Medical History
Duration of infertility
Menstrual history regarding regularity and flow.
Information about any previous pregnancy, delivery, or miscarriages is important. Poor outcomes in previous pregnancies are important.
Previous surgeries or illnesses as endometriosis, cyst surgery, pelvic infections, tuberculosis, etc. are significant details.
If suffering from any medical disorders like thyroid, diabetes, hypertension need evaluation.
Any genetic illnesses in the family as cystic fibrosis, thalassaemia etc. Are important to know.
Frequency of intercourse and any difficulty in it.
Use of alcohol, smoking, or any drugs.
Physical Examination
Physical examination is done to see some physical indications in order to rule out any fertility issue. For physical examination, your doctor will examine various things like:
Pelvic Examination: Your doctor will perform a vaginal or pelvic examination to inspect the cervix and look out for any sores, discharge or infections.
Hair growth on face and body: Unusual growth of hair on the face and the body may indicate the excess male hormones in the body that result in infertility problems.
Breast Examination: Your doctor may also examine the shape and size of the breast. He may do other examinations that may rule out certain things.
Other examinations: A targeted physical examination is done with special attention to weight (BMI) pulse, blood pressure, thyroid, signs of androgen excess as hirsutism, acne, pap smear, etc.
Investigation
Investigations in infertility workup include laboratory and imaging tests which form the cornerstone for establishing the cause of infertility. These investigations for the female partner will focus on evaluating ovarian reserve, ovulatory function, and structural abnormalities. These tests will give different results and indicate different things like:
1. Ovarian Reserve
Ovarian Reserve tells us the number of useful eggs in the ovaries that have the potential to fertilize. This test is done with a blood investigation called the Anti-Mullerian Hormone. Also, a transvaginal scan is also done for Antral follicular count. Now, after the result, Ovarian reserve is said to be poor if:
The AMH level is less than 1 ng/ml
The antral follicle is low and counts less than 5–7 (follicles 2-10 mm) in both the ovaries.
The follicle-stimulating hormone (FSH) is greater than 10 IU/L.
A history of poor response to IVF stimulation, which is getting fewer than four oocytes at the time of egg retrieval.
2. Ovulatory Dysfunction
Ovulatory dysfunction estimates for a significant proportion of female infertility in which the woman has disturbed ovulation or no ovulation. To examine this issue, various tests are done:
Midluteal (Day 21) measurement of serum progesterone.
Follicular monitoring and Ovulation studies: Sequential Ultrasounds are performed to detect the development of follicles and their release.
Thyroid disease and hyperprolactinemia can cause ovulatory dysfunction, hence a measurement of Thyroid-stimulating hormone and serum prolactin levels is also done.
3. Tubal Factor
Tubal factor examination is done to assess whether the fallopian tubes are open or blocked. This is done by:
Hysterosalpingography (HSG): A procedure used to view the uterus and fallopian tubes by injecting radiopaque dye contrast through the cervix. We can see whether tubes are open or blocked with this procedure.
Sonosalpingography: It is the ultra-sonographically visualization of the uterus and adnexa with the infusion of fluid through a transcervical canal.
4. Uterine Factor
Uterine factors that may cause infertility issues include endometrial polyps, uterine adhesions, uterine anomalies, and fibroids. These uterine problems cause difficulties in conceiving. These issues are detected by:
Transvaginal ultrasonography: It aids in the detection of the fibroids, their size, number, and location. Using three-dimensional ultrasonography improves detection of müllerian anomalies (abnormalities in the shape of the uterus) and cavity distorting fibroids.
Sonohysterography: The uterine cavity usually is easily defined, and abnormalities like endometrial polyps, submucosal fibroids, and intrauterine adhesions can be easily seen with the help of Sonohysterography.
Hysteroscopy: It is direct visualization of the uterine cavity and provides the most definitive method for diagnosis of endometrial polyps, uterine synechiae, and submucosal fibroids. Hysteroscopy is a procedure that is not commonly used for the initial evaluation of infertile women because of its cost and access considerations. Hysteroscopy indicates to confirm and treat intracavitary lesions detected by the other imaging modalities.
Three-dimensional ultrasonography and Magnetic resonance imaging and provide a more accurate definition of müllerian anomalies.
Other specialized Investigation
In certain special situations, the clinician may ask for specialized tests like:
Karyotyping and Genetic testing
Antiphospholipid Antibody testing
Thrombophilia testing
Results
After all the physical examination and other investigation tests, your doctor will be able to tell you the exact infertility problem you or your partner is suffering from. Once the infertility problem is diagnosed, your doctor can suggest the best treatment. In 20% percent of the cases, the cause of infertility cannot be ascertained and it is known as unexplained infertility.
Patient Testimonials
It's always the word of mouth that's the best advice

Abhishek Parashar
Hi, I and my wife Garima got married in 2013, and it's been 7.5 years since we had no children. We went to three-four doctors before visiting Gunjan IVF world. Then we went to Gunjan IVF center, where Doctor Gunjan ma'am guided us so friendly and she advised us to go for IVF. With their positive hands, we cracked in the first go and now we are blessed with twins. Especially, the team is too very cooperative they give you an environment which makes you feel very positive and comforting

Rohit Krishna Gupta
We started the treatment with Dr. Gunjan in the year 2018 when my wife had an ectopic pregnancy. The key thing in this relationship was that we trusted the doctor blindly and the doctor also put their best efforts to help us in getting the good news. Hope everything will go positively. Thank you, doctor. Last but not least, Mr. Gaurav, the COO of Dr. Gunjan Hospital, is the biggest reason to have this long association with the doctor and the treatment. Always got positive thoughts and suggestions from him and they helped a lot. Thank you, Gaurav Ji.

Ankush Tayal
Had a great experience with Dr. Gunjan. We visited the clinic as we had some queries regarding the conception process. Dr. Gunjan listened to the queries and answered all those with patience. And we had good news at the next consultation itself. Dr. Gunjan is very experienced, is soft-spoken, and very diligent with the process. Highly recommended!

Meenal Pandey
From the very depth of my heart, I would really love to thank my most excellent Dr. Gujan and her team whose guidance actually helped me a lot more than that I would like to give my gratitude to the most outstanding counselor (Ms. Nivedita) for all her counseling. It was actually possible with her help that I could take a perfect decision for my own self. Thank you for valuable counseling which actually provided inner strength to go for Gujan Mam. It's not been long that I have been attached to the clinic but it makes me feel like an extended family of mine.
Know the Expert before you visit our clinic
A team of Specialists working together as a team with a single Goal: Patient Satisfaction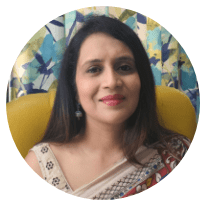 Dr. Gunjan Gupta Govil
MRCOG(UK), MD(Gynae) – Founder & Director
She is a Gynaecologist with specialization in IVF, Infertility & Laparoscopy specialist doctor and has close to 2 decades of experience in treating Infertility, performing Gynae Laparoscopy (Keyhole Surgeries) & Handing high risk Pregnancies. She is a noted speaker in National and International level conferences and has also chaired various sessions on Infertility
4.5

(267 Votes)

4.5

(261 Votes)

3.5

(199 Votes)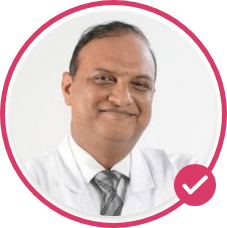 Dr. Pradyot Kumar
CEO
---
Dr. Pradyot Kumar is the CEO of Gunjan IVF World. He is a Neurosurgeon with specialization
(20+ years of experience)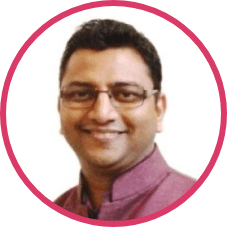 Mr. Gaurav Singhai
Co-Founder & COO
---
He has 15 years of Managerial Experience from various National & International Organizations like TCS, Fiserv & Sopra Steria. He has lived and worked with various MNCs in the US, UK, France & The Netherlands and gained immense experience and skills which he now contributes to Gunjan's IVF World assiduously.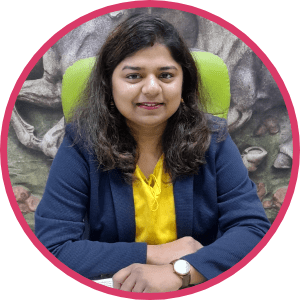 Dr Ankita Nigam, MS
Associate Consultant
---
MS Obs & Gynae (Gold Medallist). Dr Ankita Nigam has 3+ years of experience in IVF, Infertility and Gynaecology. She conducts and assists in OPD at our Indirapuram and Meerut centres. She actively assists IVF consultants in all procedures. She takes care of the management of various IVF, Infertility, Pregnancy care patients. She has done a special training in "Ultrasound Whole abdomen and Obstetrics & Gynaecology" from Thomas Jefferson University Philadelphia US.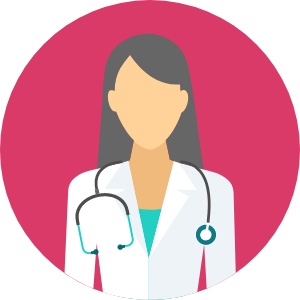 Dr. Rajeshwari Suthar
RMO
---
Dr Rajeshwari Suthar has 5+ years of experience in IVF & Infertility treatments. She actively assists our IVF consultants in OPDs. She is an excellent counsellor and patients are very comfortable with her. She has done BHMS from Hemchandracharya University, Gujarat in 2011.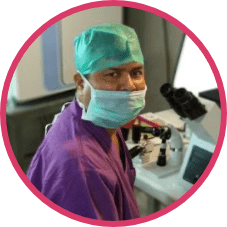 Paritosh Sarkar
Embryologist
---
He is a highly experienced and successful Embryologist with more than 10 years of experience in IVF. He has done M.Sc. in Biotechnology from MIMS, Jaipur. He has done more than 4000 IVFs and 3000+ ICSI cases till date.)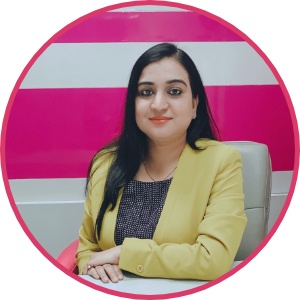 Ms. Nivedita Rai
Head Counsellor
---
MBA in HR from IMT Ghaziabad B.Ed, M.SC in psychology (pursuing). Nivedita Rai is our Head counsellor. She has been with Gunjan IVF World for the last 4.5 years. Her mission as a Head Counsellor is to bring happiness to all those who are unable to conceive. She makes them understand the various infertility treatments that we offer and help them throughout their journey to parenthood. She is a project Head of children welfare related projects of NGO Develop India Foundation and She is also a Reiki practitioner.