Meerut Branch
First Floor, 310, Chobey Compound, Next Bombay Paint House, Begambagh, Western Kutchery Road,
Kutchery, Meerut – 250001
Gunjan IVF World: Best IVF Center in Meerut
Infertility has come up as a significant issue amongst couples across India, and the city of Meerut is no exception to the same fact. But, unfortunately, during the past few years, the number of cases where either the male or female has been diagnosed with Infertility issues has increased drastically.
Hence, there was always a need for a best IVF center nearby Meerut to further help all the struggling couples around, and Gunjan IVF World has come on board with all the best treatments and world-class medical facilities to serve the same purpose.
Why Choose Gunjan IVF World only?
There are special reasons you can count on us:
The Most Rewarded and recognized IVF destination where we provide many fertility treatments.

We offer the best-suited treatment depending upon patients' medical conditions.

An IVF center with the best success rate in the whole Delhi-NCR Region.
Gunjan IVF World is one pioneer amongst the other fertility hospitals in Delhi, India. Our best IVF centre nearby came along with all the state-of-the-art treatment standards and facilities for Infertility treatments. It assisted reproductive technologies like IUI, IVF/ICSI, IMSI, PCOD, etc. So you can always expect the best care from our side during your treatment, along with the highest IVF success rate around.
We don't just call ourselves the best IVF center in Meerut. We proved it during all these years of efforts and world-class treatment facilities. Our services and treatment come on board in a professional and helpful environment, including our dedicated team of IVF specialists, sonographers, embryologists, nurses and counselors with years of experience and professional expertise at their back. 
We understand you better than anyone else!
We at Gunjan IVF World understand that IVF is a treatment that demands utmost patience and faith, and therefore we always ensure being there for you at every step of the Journey. We know that all your hopes and good investment would be based on the outcome of the whole journey big time, and that's why our IVF specialists provide you with a treatment plan which is both accessible and economical and customized according to your requirements at every step.
We are also aware of the fact that once you come to us for your first visit, a lot is running in your mind and heart; a bagful of hopes along with a list full of doubts and questions about all the "How's" and "What's" about your treatment plan. That was the entire purpose for us to build this IVF center as we not only talk about "Khushion Ki Goonj," we ensure bringing smiles and satisfaction to you at every course of your journey along with us.
Patient Testimonials
It's always the word of mouth that's the best advice
Published On: 3 Dec 2018
London to Gunjan IVF: Mrs. Pragya's journey of parenthood |Treated for pregnancy care | Gunjan IVF
Published On: 7 Oct 2018
We are pregnant!! | Pregnancy after Fibroid Removal Treatment (Myomectomy)| Gunjan IVF World

Erica Benn
It was such a nice experience with Dr. Gunjan and how she tackle our case. I must recommend this clinic as one of the best IVF clinic in Delhi-NCR. Thanks to Dr. Gunjan to give me my motherhood.

Nitesh Kumar Thakur
Gunjan IVF World in Indirapuram, Ghaziabad is the best hospital for surrogacy and ivf services in Delhi-NCR. Dr. Gunjan Gupta is founder and director of Gunjan IVF World. Gunjan IVF is the best ivf center in Indirapuram , Ghaziabad. Treatments at affordable prices.

Akansh Garg
Dr gunjan gupta is one of best gyne in delhi ncr especially in ghaziabad she explains each n everything very clearly to avoid any confusion. staff is very supportive n helpful.

Manisha Pathak
Went for treatment at various places in Delhi since 2012. Then came to know about Gunjan IVF. Started treatment in October 2020. The treatment is going on and we are quite hopeful. Gunjan ma'am is a very good doctor who treated me well and the staff are also very good and helpful.
We are one of the Best Infertility Clinics in Meerut!

Expert Team at Gunjan IVF World – Meerut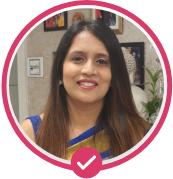 Founder & Director
Founder, Director & Gynaecologist with specialization in IVF, Infertility & Laparoscopy of 20+ years of experience.
(20+ years of experience)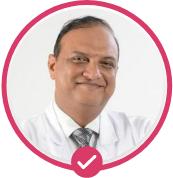 Dr. Pradyot Kumar
CEO, Founder
Founder, CEO and a specialized Neurosurgeon who is an expert in complex Brain and Spine surgeries.
(25+ years of experience)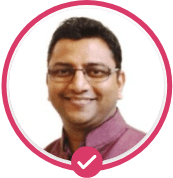 Mr. Gaurav Singhai
COO at Gunjan IVF World
COO and an entrepreneur who co-founded Gujan IVF world along with Dr Gunjan and Dr Pradyot.
(5+ years of experience)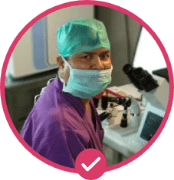 Dr. Paritosh Sarkar
Embryologist
He is a highly experienced and successful Embryologist with more than 10 years of experience in IVF.
(10+ years of experience)
About Clinic & Infrastructure
Google 360 View
Gunjan IVF World Services
IVF Treatment
IVF stands for In Vitro Fertilizations, which is an advanced fertilization procedure that helps infertile couples to conceive a child…
READ MORE
Gynaecology
A gynecologist is a person who is trained and an expert in the female reproductive system. With a certified medical qualification…
READ MORE
Surrogacy
As the technologies are becoming advanced, the options of having a baby are also increasing. One such advanced way of having a child is surrogacy…
READ MORE
Pregnancy Care
It is the general health of the mother during pregnancy, childbirth, and after giving birth. Every woman counts her maternal health…
READ MORE
Fertility Surgeries
Infertility is becoming a common problem among couples, which results in causing difficulties to conceive. Fertility treatments help those…
READ MORE
Cancer Screening
In vitro fertilization is a process of fertilization where an egg is combined with sperm outside the body, in vitro. The process involves monitoring and…
READ MORE