How to Support Corona Warriors?
Our Corona Warriors (Healthcare workers, Administration, Police, Municipal workers) need our wholehearted support in the fight against Coronavirus. While we are staying at home, our Corona Warriors are fighting day and night the frontline for us. Like Us, they also have their families. It's also our duty to help these warriors in every possible way.
What are we donating?
Gunjan IVF World and Marg Foundation have started an Initiative 'Support Corona Warriors' to encourage people to donate protective shields/equipment to our Corona Warriors. These protective shields include:
PPE Kits (Personal Protection Equipment) – A PPE Kit includes a Coat, Masks, Goggle, Gloves, Cap, and a Disposal Bag
Face Shields – A face shield covers the entire face of the person and protects them better than a mask.
How you can join this initiative?
Any amount is welcome. There is no minimum amount. 1 PPE Kit and 1 Face shield together costs around 800 Rs (after GST, logistics, etc).
Complete transparency is assured. All purchase invoices, their payment proofs, and Photographs will be published on our website.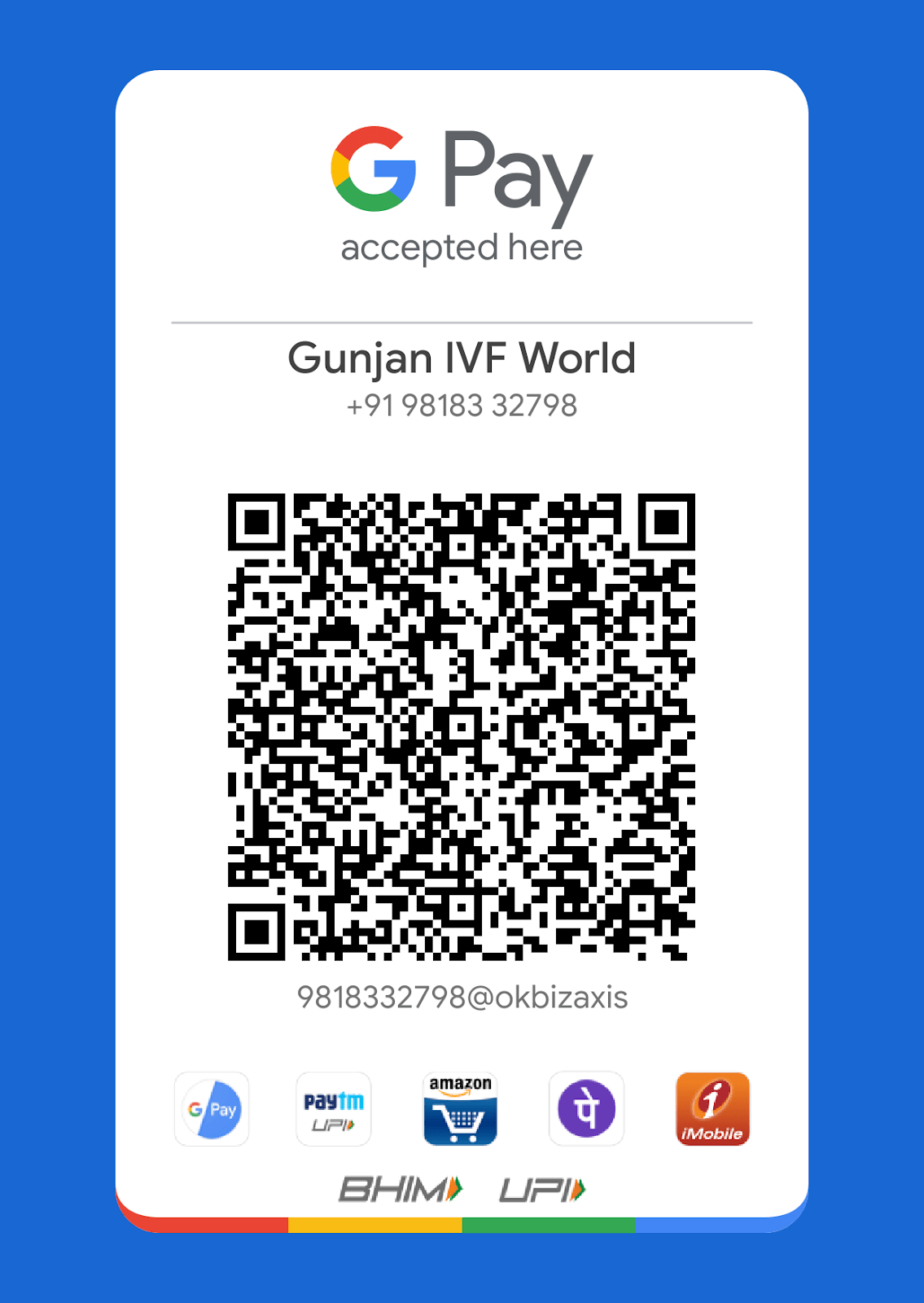 Names of donating persons will also be published on our website. You can pay us in the following ways:
By Scanning QR code:
By Paytm to 9818332798
By paying directly to our Bank account:

Gunjans IVF World Pvt Ltd.
Account number:50200035354937
IFSC: HDFC0000590
Please mention 'KitDonation' in the payment remarks while making the payment. Also share the screenshot and your name to 9625932438. This will help us maintain transparency.
Remember, We are only safe when our Frontline Warriors are safe.
Jai Hind !
Updated on 23/04/2020
We are extremely thankful to the people who have donated for this noble cause:
| | |
| --- | --- |
| List of Donors | Amount |
| | |
| Anonymous | 8000/- |
| Priya Shukla W/o Ashutosh Shukla | 1100/- |
| Sandeep Tyagi (Corona Remedies) | 500/- |
| Rajesh Kumar | 1101/- |
| Sudeb Mandal | 3000/- |
| Ganapathy Gangadharan | 1000/- |
Gunjan IVF World Management & Staff
| | |
| --- | --- |
| List of Donors | Amount |
| | |
| Gunjan IVF World Pvt Ltd | 21400/- |
| Dr Pradyot Kumar Govil | 5000/- |
| Gaurav Singhai | 5000/- |
| Ashok Sharma | 3500/- |
| Nivedita Rai | 501/- |
| Nivesh Kumar | 251/- |